Masquerade

Saturday, April 12 : 2:36 AM : 0 comments :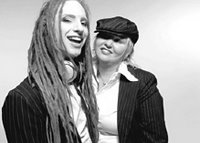 We got a glimpse

of the real San Francisco. It's located on the corner of Eleventh and Harrison Street and it stinks outside. Inside however, the venue is great. Large dance floor surrounded by a balcony, with an upstairs lounge and additional dancing area, and a little Mexican food station way in the back.

We came here a few years ago for a Crown City Rockers / Digable Planets concert (which was oddly disappointing), but this time around we went to the DNA Lounge for a mash up party. The party flyer featured Britney Spears and Amy Winehouse's mugs mashed together. How could it get any better?

I suspected things weren't quite up to snuff though, as we worked our way into the club, past the burly bikers, the weird odor, and the sounds of a live band. Bands usually are the death knell for any dancing excursion. The first few minutes inside didn't exactly quell our fears as on-stage was a dude who looked like a lady, but sang like a dude, and a bunch of band members dressed like characters in Guitar Hero.



While this certainly

wasn't our usual scene, it was an interesting change of pace, even if the music and crowd was weirding us out. I'm just going to come right out and say it. Gays, trannies, one furry (a rabbit costume), and PDA inclined couples tucked into every dark corner. This was the SF we'd heard about and lusted after! We found it! We actually almost left but twelve dollars cover meant we had no choice but to stick it out.

Thank goodness we did because by song three, a pop and goth mashup of Rihanna's "Umbrella," the music got crazy good. After the band stepped off-stage, we were treated to the most delicious mix of singing and dancing songs ever. Guns N Roses, Queen, The Doors, Michael, Prince, and a whole bunch of hip hop. Pseudo-karaoke plus danceable beats? Fabulous.

This isn't a recap so I'll forgo the actual events of the night but suffice to say, it was entertaining as hell. Just when you think you've explored enough, there's always something new that sets your world on fire. Mash up parties! Oh did I mention that the parties are all webcast? For example, this was our music at two in the morning (check the Beyonce mix at the 2:00 mark).



Extra:

After more research, I must thank the lead singer and promoter of these mash ups, Adrian, for his amazing idea. He also maintains a blog where incredible goodies like free MP3s are available. Including "Best Of Bootie" by year. Love it.

Here's a sample track: Tender Umbrella (Rihanna vs General Public), and while we're at it, a Mechanical Bride cover of Umbrella too (courtesy of Aurgasm) because why the heck not?