Sir Yes Sir

Tuesday, October 16 : 6:50 PM : 0 comments :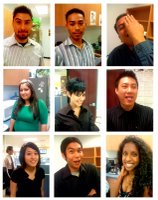 Aren't my kids cute? They got me

ballons, stickies, and other assorted things

for National Boss Day. What? No, it's true, I'm a boss. Like I tell people to do things and they do them. Shocking yeah? In my normal life, I tell people to do things and they ignore me, or make a few disparaging comments. However, between the hours of whenever to whenever, I can pretty much tell these kids to do anything. And when I say "kids" I mean they're a whole generation removed from me.

Most of the managers here are upper twenties to low thirties. The employees we boss around are anywhere from eighteen to twenty three. There's nary an adult in sight except for the investors and CEOs. To say we have an unique work environment is a huge understatement. Most of the time, we feel like we're babysitting more than anything else.

The amount of drama we endure on a daily basis can't be encapsulated by words alone. You just need to be around for a day or two and you'll understand. It's unbelievable. And the gossip! The speed of gossip in this office is twenty minutes, give or take a few. Sometimes a rumor will get back to us and it makes no sense whatsoever. And since everyone's essentially an overgrown teen, most of the rumors are scandalous by nature. It's pretty hilarious.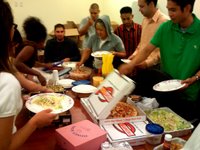 The best thing about the job is that everyone who works here is wonderfully cool. While it's not a requirement per se, it's nice when you can get along with your co-workers. My team, for example, is the happy center of the office. Since they aren't subject to rapid fire changes and personnel shifts, they've been able to build up quite the camaraderie.

My first few weeks with this team, we had celebrations for birthdays, celebrations for my joining the team, celebrations for people leaving the team, celebrations for just about any occasion. Pretty fabulous right? Now they've gone into ultra-competitive mode in order to win the Halloween decorating contest. They're also trying to figure out a team theme for Halloween. I suggested invisibility but that might not fly with upper management. Maybe next year.

Get back to work!