Silly913

Monday, October 6 : 3:51 PM : 0 comments :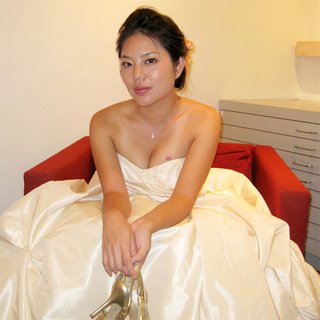 Listening to:

Brett Dennen. Dude sounds like a lady. And looks like this. Kind of good music.



It's over.

All 2008 wedding festivities are attended and done with. In the aftermath, I stand strong like a sycamore despite my worries a few months ago that this might be a difficult time. Again I state that my speed dial came under heavy assault this year from Cupid and his machinations. But I've learned that it's not so bad. Really.

This weekend, I went to Susan's wedding and it really came into focus that this was it, she was married. I mean, she was technically married a few months ago but this was their celebration/declaration to the public. Her reception in Hollywood was quite different than most weddings. For one, there was no banquet hall or whatever. Susan and Tony simply rented an art gallery for the evening, had photos and exhibits of their life together on the walls, and invited their friends and family for cocktails and h'our dourves. It was casual, unique, and quite a nice change of pace. All the traditional things were cut out and this was exactly what Susan wanted because it allowed the couple to spend time with their guests in an unhurried manner.



In terms of

number of years, I actually haven't known Susan that long, relatively speaking -- only since the very tail end of 2001. I mean, we didn't attend college together, certainly never shared an office, and never lived in the same city. Much of our friendship was maintained over emails, AIMs, and phone calls. There was a time when Victor and I would consistently be in LA to hang out with Susan and her friends on the weekends, usually for clubbing reasons (or they might come down for sun and relaxation), but that tailed off eventually.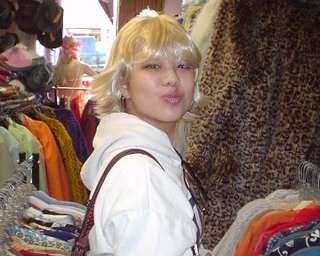 So it's like kind of a big success for our friendship to have come so far. I mean, it's been a long distance friendship more or less, and the way I am, that's usually difficult for me to maintain day to day closeness. In the beginning, the thing that drew us together was our shared experience of having lost a parent -- mine very recently, hers a few years in the past. It kind of jump started our friendship on this serious and trusting plane that just kept accelerating. Soon, she became my Go To Girl (a useful acronym even if it looks stupid in print) for all sorts of trivial and serious matters.

One of the things I really like about Susan is her willingness to say what's on her mind. There's millions of times she's called me out on my shit and since I'm usually full of it, that's a very useful thing to have in a friend -- especially one that I feel like "gets" me so I don't just reactively dismiss everything she says. She's supportive but in a devil's advocate way, which is extremely valuable



Susan and I have

talked about relationships and potential mates for so long that it's funny in a poetic way that she's ended up with Tony, whom we had all met on one of our first clubbing expeditions in LA. All these years of searching and there he was. It's pretty romantic right?

We used to "celebrate" Valentine's Day together during the times we were single and I'm delighted that she's now got a Valentine's date for life. So yeah, my February 14ths are free.